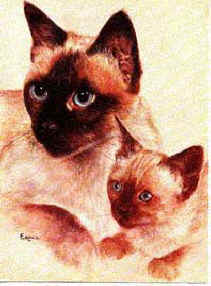 We support the
Traditional Cat Association, Inc.
COMMENTS from Readers:
I received the book I ordered in the mail from you. It is the best and most complete book about Siamese cats I have ever seen. I can tell you did a lot of research. Thanks for writing such a great book!
Leigh Ann
I got your book several months ago, and while I haven't finished it completely, I can say I am quite impressed at the care and detail you put into it. In writing such a work such as you have, there are no substitutes for hard work and careful research. Congratulations on a wonderful effort!" Terry.
"Your fabulous book arrived yesterday, and it is compelling reading. Thank you! Thank you! Thank you! I am learning so much. As a life long meezer lover, real "Siamese", that is, you can understand how thrilled I am with your work and your book. And what a pleasant surprise to see Bando included as well. We are honored. Thanks." Susan.
I want to thank you writing such a wonderful book on the Traditional Siamese Cat! I can't set it down! I find it so informative and I shared the book with the breeder I have been working with and have Siamese from. ...I am going to continue with the same high standards on any cats I produce. I am thankful to have your book to guide me and help me with the many questions...Thanks again for a fabulous, informative book, that can help with the continuance of this wonderful Traditional Siamese Breed." Corky
"Your book is to die for, I just love it, I just love it, you're a smart cookie. What a lot of work. You can't even find any kind of book any place that comes close to this one. What's best is - it is the truth." Sharon.
"...I have been pouring over it in bed each night since I got it. It will take me a long time to read and absorb everything. It is "THE BOOK" on the subject of Siamese cats." Nancy.
"It is without a doubt an "Encyclopedia" of the breed. It is a wealth of information. There are only a few Traditional and Classic breeders in Connecticut. I prefer the Classic, like Solomon on the cover. I just skimmed through the book quickly. Thanks so much for replying to your fans." Deb.
"Its a must for all the Breeders & Cat Lovers alike. I have read it from cover to cover and have found it to be a Great Read. I Would, Will, & Do recommend it to everyone. Its a Great Buy and a Wonderful Read, full of information that you would never come up with UNLESS you are a reader of MANY Books about Cats. I just cant say enough about how much I Liked the Book and How much everyone will like it also. I HIGHLY RECOMMEND IT TO EVERYONE!!!!! Get One or Two for you and a friend." Teena.
"I am sending a copy of your book as a gift. Your book is excellent and I have enjoyed it tremendously!" Thomas.
"...Wow! Great job. I did not expect to get so much information on Siamese in one place." Debbie.
"I received your book...what a fantastic job! It is great. Great job. " Mary
"The book came today. I'm impressed!!!!!!!! What a job you have done. Congratulations on a job well done." Carolyn.
...if I wouldn't have read your book I might have believed it, the 1st cat show I went to was all wedges. I had never seen an apple before, my whole family screamed when I said I was going to breed Siamese. My mom said it would give her nightmares for the rest of her life. They were all shocked when I brought a beautiful big-boned girl home that was Sasha--- See how helpful your book is, I might have always thought the palace cats were inbreed with skinny rats! Why would she lie like that???? She's in my state, I should have emailed her and asked to see the pedigrees for breeding purposes, thanks for all the info. Amanda
"...what a wonderful book and what a work!!! You must be so proud! Great Great congratulations on such a work. It is such a wonderful job. I will tell all my friends about the book..." Marg and the Cats.
"I love the book!!!!!! I have just read it from cover to cover. I LOVE IT!!!!!!!! You have done a wonderful job on it. There are a few cats in there that look like my Grandmothers' first cats from England. I'm trying to dig out old papers and see some of the names in the book sound like some of her first cats. So now I'm on a quest to see about old names for myself.

But the book is just so wonderful. Great pictures and the info is so well put together. All I can say to you about it is::::ITS JUST DONE UP WONDERFUL. You have done a GREAT SERVICE TO US ALL BY PUTTING THIS BOOK TOGETHER. It should be a book every cat owner & breeder should have on their shelf. Again Thank You!!!!!" Teena.
"I'm enjoying your book - it's fascinating." Thelma
"I am enjoying the book." Thanks Sylvia.
"Congratulations! Your tribute to the Siamese is unbelievable! I shall enjoy reading the history from the beginning. You are to be commended. Best wishes to you and John." Thelma.
"My husband and I are enjoying the book. What a labor of love you have put into the book." Rebecca.
I have read your book and know that you know your cats, so to hear you say that you love our cats is a great honor. You have made our day, Thank You. By the way your book was excellent! I couldn't stop reading it and I learned so much more about this wonderful breed. Chantel
I have started reading your book. It is filled with interesting facts. I am really enjoying it. Tammy
I finally finished reading your book. I thoroughly enjoyed it and hope to read it again. I love all the pictures and pedigree information on the old cats that is in there. I loved the information about the historic catteries. Thank you for finally getting it finished and available to those of us who are interested in the history of the Siamese. Paula
It is so nice to have all the information from different sources under one cover. I have an extensive library (for which I have spent a small fortune) and all the information in them is difficult to find because there are so many and so many different opinions. I am thrilled to have one book where I can find that information and where you compare the different opinions of the different authors... the valuable part is that it's all in one place. It will be extremely valuable to those who do not have all of these old, out-of-print books. Thank you for putting it all together. Paula
It's ... a lot of information and certainly tracks the progress of TCA - a lot of effort and dedication. Jude
I love your book. I hope you write one on breeding in the future. Diane
You achieved an incredible documentation of the Siamese cat, that will be valuable forever. Doreen.
I just wanted to let you know I got your book today. It looks great. I can't wait to start to read it. The photos are wonderful. It is one of my Christmas presents! Thanks for writing a great book. The Siamese cat books on the market are nothing compared to this book. Diane.
I have heard such wonderful things about your book. I am so looking forward to receiving it. Thank you for all your research and your love of these incredible beings. Sally.
... the book you wrote is wonderful, Diana. I am working my way through it from front to back. I am amazed by some of the stories. Makes me appreciate things I have taken for granted, such as vaccine. I love your book and am awed by the amount of research you did in putting it all together!! Mary
"I received your book yesterday and already started to read it. It is VERY interesting and well documented." Isabelle